Free warehousing in USA and free consolidation of your packages
When you sign up on our website you receive a free us address but also a physical storage unit into our warehouse.
The storage unit will be used to hold your merchandise.
Your account will contain and hold for free your goods.
If you send us more than 3 packages you will pay a fee of 19 usd.
This fee covers space booking allowing you to collect as many items you want without limit of quantities ( you want to send us 100 packages ? you can ) OFFER VALID 1 year.
Storaging your purchases into our warehouse into US territory is a smart way to reduce shipping costs from US to your country.
Why ?
Because we make only 1 shipment consolidating your packages
For this reason we offer a free consolitation. We group and repackage your arrivals reducing the volume of the original packages (We dispose anusefull weights, paper and space ) so we can compact all your arrivals in less space as possible to reduce your final costs.
We will create less number of packages we can referring to kind an quantities of merchandise , reducing the volume which will make you save money.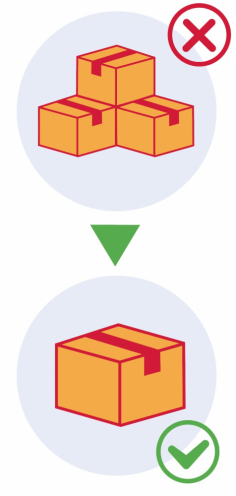 Warehousing and consolidation. FAQ
Here you can find some answers to the most common question about an american address with youshipamerica.com
If you have any questions don't esitate to contact us